Deposit Insurance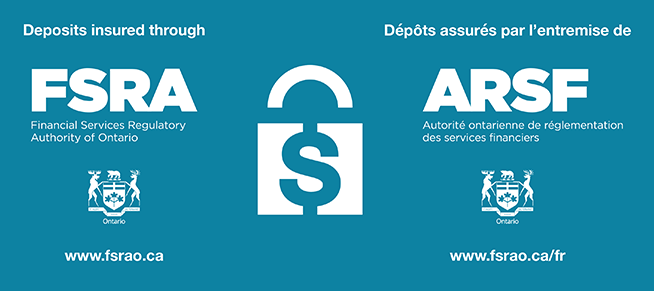 As a member of WFCU Credit Union, you can rest assured that your deposits are safe, secure and insured. As a credit union in Ontario our members deposits are insured by the Financial Services Regulatory Authority of Ontario (FSRA).
Deposits are insured up to a maximum of $250,000 in the following non-registered accounts:
Chequing & Savings Accounts

Guaranteed Investment Certificates (GIC) and other term deposits regardless of term of investment

Money Orders

Funds in Transit

Index-linked Term Deposits (principal portion only)

Trust Accounts

Joint Accounts

Business Accounts (e.g. Corporations, Partnerships)
Deposits have unlimited coverage when held in the following registered accounts:
Locked-in retirement account (LIRA)

Life Income Fund (LIF)

Registered retirement savings plan (RRSP)

Registered retirement income fund (RRIF)

Registered disability savings plan (RDSP)

Registered education savings plan (RESP)

Tax-free savings account (TFSA)
The following are not insured through FSRA:
Mutual Funds

Stocks

Shares

Mortgages

Membership Shares

Patronage, investment or preferred shares issued by the credit union

Foreign Currency Deposits

Contents of Safety Deposit Boxes

Securities held for safekeeping

Bonds & Debentures Issued by Governments and Corporations

Treasury Bills
Learn more at fsrao.ca.